Tour Dates
You are here : Home > Tour Dates
Only Public shows are detailed.
April 17, May 31, July 3, September 4,  November 6, December 4, 2016,  January 22, 2017, April 9, 2017, May 28, 2017, and July 16, 2017:

 Rico Monaco Band WE ROCK YOU RUST UNPLUGGED featured on

Sunday Morning Acoustic

on WMMO 98.9 Orlando by

Program Director Hildi Brooks

.  "I've been a fan of the band for years.  Sammy Hagar is a fan too.  … I was BLOWN AWAY first time I ever saw Rico and his band over at Velvet Session (Hard Rock Hotel) a few years ago."
SHOWS/EVENTS:
Rico Monaco Sheryl Crow Master Guitar Class at the Dr. Phillips Center
(immediately before the Sheryl Crow Concert)
Date: Saturday April 29, 2017
Where: Dr. Phillips Center School Of The Arts
445 S. Magnolia Ave.
Orlando, Florida 32801
Phone:   (407) 629-1150
Master Class w.Rico Monaco: Time to be determined
Showtime: 8 PM
Go to:  Sheryl Crow at Dr. Phillips Center
Rico Monaco Band at Herndon Festival,
Herndon, Virginia, just outside of Washington, DC!


Date:

Friday June 2, 2017




Where: 

Herndon Festival Depot Stage




777 Lynn St. Herndon, VA 20172




Phone:

 (703) 787-7300


Showtime:

7

:30 PM to 9:30 PM




Visit:

  Herndon Festival
Kissimmee Monumental Fourth Of July
Rose Royce, Rico Monaco Band, plus 2 opening acts
Date: Tuesday July 4, 2017  5:00 PM – 10:00 Pm
Where: Lakefront Park
201 Lakeview Dr., Kissimmee, FL 34741
Phone:  
Go to:  City Of Kissimmee
Tito Puente Jr. with The Rico Monaco Band
Date: Sunday July 23, 2017
Where: Dr. Phillips Center Alexis & Jim Pugh Theatre
445 S. Magnolia Ave.
Orlando, FL 32801
Phone:  (407) 629-1150
Doors:  7 PM
Showtime: 7:30 PM
Tickets:  Tito Puente Jr. with Rico Monaco Band at The Dr. Phillips Center

Recent Shows: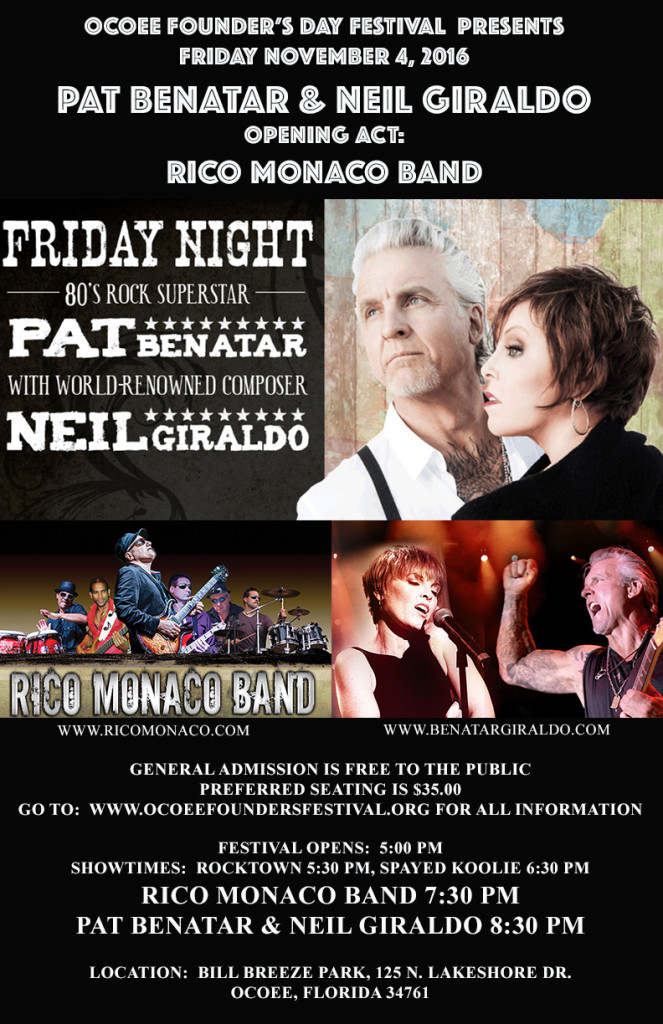 Rico Monaco Band Headlining Latin Night For Pulse
Date: June 23, 2016
Rico Monaco and Friends including special guest stars listed below. This is to benefit the www.pulseoforlando.org 501-c Charity formed by the owners of Pulse to go directly to the victims and their families.
SPECIAL GUEST STARS: members of Alan Parsons Live Project guitarist/vocalist Dan Tracey and sax/vocalist Todd Cooper both flying in from Nashville. Drummer/vocalist Rick Brothers (Gretchen Wilson, Colt Ford), Brazilian Vocalist Leo Von, and more!
RMB members will include Greg Vadimsky, Nick Rosaci, Robert Butkowski, Brian Arnold, longtime former band member Dimas Sanchez.

Message from Rico Monaco:  RE: Tragedy In Orlando
I was asked by my friend Rosario Poma (owner of Pulse Nightclub with his wonderful wife Barbara) to headline the benefit on June 23, 2o16 for the victims of the Pulse Latin Night disgusting attack on June 12, 2016. I pray that the music we deliver will help the victims families and friends in some small way. I only want to help my friend, the victims, our city, and do my part WITHOUT getting involved in politics, ideology, or religious beliefs. This is about human beings lives, love, peace and compassion.  This is the least we as musicians could do for the people and our city.
Sammy Hagar & The Circle 2015 Florida Tour
with Special Guests The Rico Monaco Band~!
_________________________________________________
RMB headlined the
TAMPA BAY BUCS National Anthem &
Pre-Game 90 Minute Concert!
__________________________________________________
Past Shows:

SunFest West Palm Beach with Sammy Hagar & The Circle
Ocoee Founder's Day Festival with Pat Benatar & Neil Giraldo
Hard Rock Live Orlando with Sammy Hagar & The Circle
Ruth Eckerd Hall Clearwater, FL with Sammy Hagar & The Circle
NFL's Tampa Bay Buccaneers vs Arizona Cardinals- 09-29-13-
-NATIONAL ANTHEM performance & Pre-Game Concert.
Cabo Wabo Cantina in Cabo San Lucas, Mexico with Sammy Hagar
Dr. Phillips Center for the Performing Arts GRAND OPENING
Florida Theatre with ELO former members, Jacksonville, FL
Boca Raton Resort & Club, Headliner Wells Fargo National Convention
Mundo Latino Festival with Tito Puente Jr. in Paris, France
World Center Marriott, Kohls National Convention, Orlando, FL with Jerry Seinfeld
Main Street Days Festival, Grapevine, Texas (suburb of Dallas)
"Black & White Ball" with Tito Puente Jr. in San Francisco, CA
Downtown Orlando Concert Series with WMMO 98.9 and Tears For Fears
Le Bar Bat & Arlene Grocery Nite Clubs in New York City
NBC Universal Studios Citywalk Orlando, FL
Gaylord Palms Resort & Convention Center
Disney's Dolphin Resort for IBM Worldwide Convention
Cabo Wabo Cantina in Cabo San Lucas, Mexico with Sammy Hagar, Smashmouth
Grand America Hotel in Salt Lake City, Utah
Hard Rock Hotel Orlando with Loverboy
Jackie Gleason Theatre in Miami, FL
Hard Rock Live in Orlando,FL
Tampa Bay Convention Center, Tampa, FL
House Of Blues with The Wailers in Orlando, FL
TD Waterhouse Center for Orlando Magic Halftime and Pregame
Jacksonville Coliseum in Jacksonville, FL
First Friday Mall At Millenia, Orlando, FL
… among many others.
National Acts that RMB has performed with:
Sammy Hagar,  Pat Benatar & Neil Giraldo, Tito Puente Jr., Smashmouth, ELO former members, Jerry Cantrell-Alice In Chains, Jerry Seinfeld, Cafe Tacuba, Tears For Fears, Average White Band, The Legendary Wailers, Loverboy,  Michael Anthony of Van Halen, The Monkees, The Pointer Sisters, Blue Oyster Cult,  Rascal Flatts, Jon Secada, Pat Travers,
Los Van Van, etc…
PASSION THEORY

The Passion Theory is a guitar method and discipline developed by Award-Winning guitarist and instructor Rico Monaco for those with fire in their soul to play the guitar! It's not just the average list of scales and chords to practice. It's more of an organized workout routine that is designed to exercise your mind, fingers, and heart to help you become a great player.