Rico Monaco Band/ Rico Monaco & Sol Sons
You are here : Home > Rico Monaco Band/ Rico Monaco & Sol Sons
Rico Monaco Band is a Rock band with Classic Rock sound.
Rico Monaco & Sol Sons is the Latin Rock band.
Rico Monaco Band is powered by Sammy's Beach Bar Rum
Rico Monaco is endorsed by Paul Reed Smith Guitars.
Rico Monaco uses Dean Markley Guitar Strings.


Rico Monaco – Known as a rock-based artist that deftly mixes pop, Latin, world and jazz influences, Rico has performed onstage with internationally-known artists, and his bands have opened concerts for major acts around the world.  While gaining wide-spread notoriety as a stellar guitarist out of Florida, he has recorded with platinum-certified producers and has written and produced songs that received significant radio and television airplay.  His original recordings and show-stopping performances have garnered accolades from across the industry.
Rico is endorsed by Paul Reed Smith Guitars and has impressed audiences around the world onstage with his passionate guitar playing.  He has produced many recordings including all the Rico Monaco Band and Rico Monaco & Sol Sons catalog.  He has written and recorded hundreds of songs.  He has led large ensembles up to 17 pieces as musical director/band leader with great success to Paris, France, New York City, San Francisco, Dallas, Salt Lake City, Cabo San Lucas, Mexico, and at many other major concert venues.
In 2001, Rico's musical performances and his leadership acumen paved the way for his band, Rico Monaco & Sol Sons, to win a national battle of the bands sponsored by Hard Rock Café and Cabo Wabo Tequila.  He was honored as "Musician of the Year" in 2002 (JINO Awards, Orlando FL) and has received numerous other awards, such as eight-time Best Latin Rock Act in Orlando, Song of the Year, and CD of the Year.  His latest release, "We Rock You Rust Unplugged" by the Rico Monaco Band, has seen his original composition "BAM! I See Red" featured multiple times on the popular celestial radio show "Sunday Morning Acoustic" hosted by program director Hildi Brooks on Central Florida's WMMO 98.9.
Rico is proud to be endorsed by Paul Reed Smith Guitars and sponsored by Cabo Wabo Tequila and Sammy's Beach Bar Rum (both owned by Hall of Fame rock-n-roll legend Sammy Hagar).
 Here are few quotes by professionals in the music industry about Rico & the band: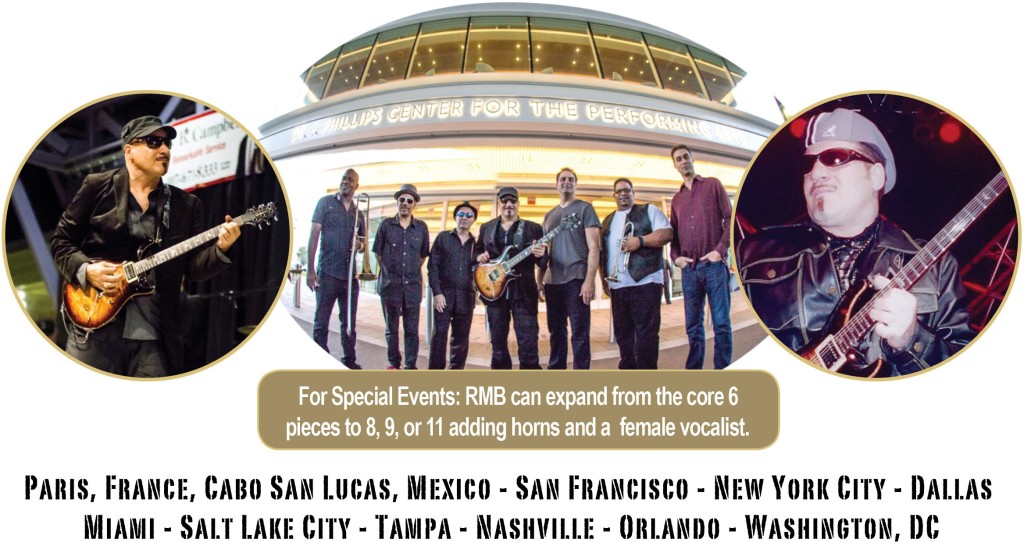 Dimas Sanchez – congas, timbales, drums,  Dimas has performed with Rico Monaco Band for some of the the biggest concerts in the band's history including shows in Paris, Mexico, NYC, San Francisco, Miami, Salt Lake City, etc.  He is known as "The Professor" in the band because of his academic knowledge of Latin and World rhythms.  He leads his own Latin Jazz act and is well respected in that music world.
Carlos "Clos" Hernandez – congas, timbales- Carlos is a talented percussionist and writer from the funky streets of the Bronx New York. He co-wrote the RMB Song Of The Year with Rico and Pete Buddenbaum, "Tell Me."  Carlos recorded congas on Funky Four + One More  "Rappin &Rocking the House" one of the first Hip Hop songs ever released.  Has played bongos for the Puerto Rican Legend Marvin Santiago, Howie Dorough of the Backstreet Boys, and played the 34th Playboy Jazzfest 2012 at the Hollywood Bowl in Los Angeles, CA.
Robert Butkowski – drums. This Mississippian graduated from Middle Tennessee State University music program studies and studied under the tutelage of a world class drummer, Keith Carlock.  He has shown the rock solid demeanor and focus to help bring the band to the next level. He has toured nationally and is the type of model professional that band needs to compete on the highest level.
Leo Von – Vocals and acoustic guitar. A combination of talent, charisma and good mood is how we can define Leo Von. The "Showman", as his friends in the business like to call him, began his career at the age of 11 with a kids' Beatles cover band in São Paulo, Brazil. Ever since, Leo never quit the stages, as he performed with noteworthy Classic Rock bands, Big Bands, Full Orchestras, and a constant presence in the Brazilian media.
Josemiel Castro –  bass guitar, Joselo is originally from the Dominican Republic and has toured throughout the Islands and worked for 4 years as a musician on Carnival Cruise Lines.  His great natural feel and groove is apparent onstage.  He  gives the band a bit more Latin presence and style.
Danny Escobar – keys, background vocals.  Danny is a great Latin musician who has performed with many of the biggest Latin Salsa stars in the music business.  He has been the musical director of many great bands that have performed on stages all over America and internationally.  His talent and his dedication to his craft are obvious onstage.    He brings a much needed feel to the music and professional attitude to the Rico Monaco Band.
Subs:  Nick Rosaci –  bass guitar, , established multi-instrumentalist  based in Orlando, Florida and performs in orchestras as well as in RMB. Nick studied music at University of North Florida and has been a part of the Rico Monaco Band as sub for years now.  He always is prepared and lays down bass lines that serve the song which is vital to the tightness of the band.
Awards
2013 Best Latin Act – Rico Monaco Band Best Of Orlando 2013 Awards
2012 Best Latin Act – Rico Monaco Band Best Of Orlando 2012 Awards
2011 Best Latin Act – Rico Monaco & Sol Sons Best Of Orlando 2011 Awards
2010 Best Latin Act – Rico Monaco & Sol Sons
2010 Gibson Opening Act Winner – Rico Monaco & Sol Sons (opened the show for Tears For Fears and were the highest voted original act)
As voted by the readers of the Orlando Weekly:
   2008 Best Latin Act – Rico Monaco & Sol Sons (with an original release)
   2006 Best Latin Act -Rico Monaco & Sol Sons
   2004 Best Latin Act -Rico Monaco & Sol Sons
   2003 Best Latin Act -Rico Monaco & Sol Sons
Hard Rock Café/Cabo Wabo Tequila 2002 National Battle Of The Bands Champion (as chosen by Sammy Hagar & Michael Anthony of Van Halen)
2002 Jazz In Orlando Awards:
   Musician Of The Year – Rico Monaco
   CD Of The Year – Rico Monaco & Sol Sons
   Band Of The Year – Rico Monaco & Sol Sons
   Song Of The Year – "Tell Me" by Rico Monaco & Sol Sons
PASSION THEORY

The Passion Theory is a guitar method and discipline developed by Award-Winning guitarist and instructor Rico Monaco for those with fire in their soul to play the guitar! It's not just the average list of scales and chords to practice. It's more of an organized workout routine that is designed to exercise your mind, fingers, and heart to help you become a great player.